Hello! First and foremost – thank you from the bottom of our hearts for taking the time to stop by! We are so grateful and humbled for your courage in considering adoption for your child.
We have known each other for almost 25 years. We met our Freshman year in high school and were instant friends. We remained close friends after high school and eventually realized there was something very special between us. We took the leap and began dating in 2007. We got married in September 2012 on Travis' parent's property in our hometown.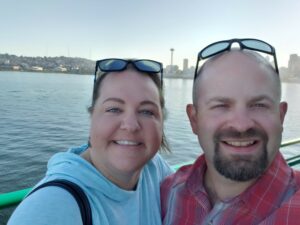 We have always known we wanted to grow our family though adoption. After years of not being able to conceive a child, we are excited to be here and have the opportunity to be parents. We can promise you that we are ready to be parents, to share our unconditional love with your child, give them every possible opportunity to grow to be just who they are meant to be, and support them to fulfill their dreams. We also want you to know we are committed to an open adoption. There will never be a doubt in your child's mind, just how much you love them and how selfless you are for the choice you are making for them.
Travis is kind, loyal, loving and such a hard worker both professionally and personally. He is always up for an adventure and isn't afraid to try new things. He works as a commercial heating, air conditioning, and ventilation journeyman. Tara is sure he can fix ANYTHING from a bad day to something broken around the house. His kindness and sense of adventure are going to help him be such an amazing dad.
Tara is kind and caring and beautifully strong willed. She loves to learn, and Travis says she doesn't hesitate to make sacrifices for the benefit of the family. She has always dreamed of being a mother.  Tara is a clinic supervisor for a primary and urgent care clinic and has been in healthcare for the last 10 years. She works with a great group of people who are also friends.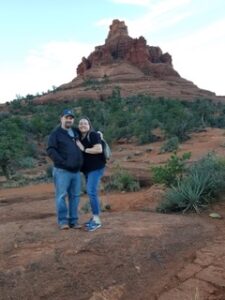 We love to spend time with family and friends for random dinners or big holidays. Our friends and family are so excited to welcome a child into our lives. We have a 7-year-old Springer Spaniel named Bailey who we love to snuggle, take on hikes, go to the river with or just play in the backyard. She will be such a loving companion for the child we are blessed with. We enjoy anything outdoors – camping, hiking, fishing and star gazing with our telescope. We also love going to Seattle Sounders games. We look forward to sharing these experiences with a child and watching them explore and learn about the world around them.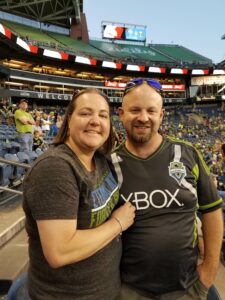 We live in the same town we both grew up in and in Tara's childhood home. In fact, the nursery is Tara's childhood bedroom. Our neighborhood has a lot of young families and there is a park just down the street that was completed this year. We are excited to have a place so close to home to be able to adventure to.
Thank you so much for taking the time to get to know us. We hope we will get to know you and build a great relationship for the future. Our greatest hope is that you find peace in the loving and courageous decision that you are making for your child.