Hello! We are Tom, Jin, and Kihana (Kiki).  Tom and I met in 2005 after I moved in next door to him in an apartment.  After weeks of contemplation, I finally build up the courage to go knock on his door.  I introduced myself as his new neighbor and then went back to my apartment.  Several minutes later he knocked on my door and asked if I wanted to hang out with him and his friends that evening. From there on we spent an amazing summer together and 6 years later we got married in Maui.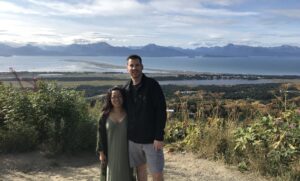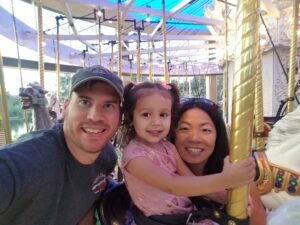 We've always wanted children but never expected we would struggle with infertility.  After much research and discussion with family and friends that have adopted, we knew this is our path.  Three years ago, we adopted our first baby girl.  She came to us at 2 months old.  She is now 3 and is a dream come true for us.  She is full of personality, funny, beautiful, and smart.  Kiki has made a huge impact on our lives and we feel very lucky and blessed to have her and to call her our daughter.  We have a great relationship with our birthparents and continue to keep in contact via text and occasionally meet them for lunch and catch up.
I was born in China but have lived in the states since I was 9 years old.  I work as a physician assistant at the local hospital and Tom is the sales manager at the family business.  We both work four days a week.  We are fortunate our daughter does not have to go to daycare but are under the care of our family 3 days a week while we are at work.  Family is very important to both of us. We both have a large family that lives nearby in the Spokane and CD'A area.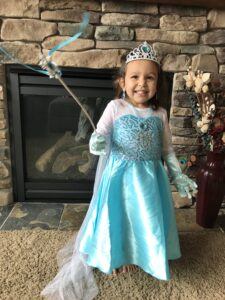 Our hobbies and interests include camping with family and friends, hiking, floating the river, and playing in the lake.  Summer is our favorite time of the year.  In the winter, we'll occasionally go skiing /snowboarding and sledding/tubbing.  We also love to travel.  Kiki is a great traveler and we have taken her on long road trips and airplane trips. We live in a beautiful gated community with lots of space for our daughter to play inside and out.  There are multiple parks nearby as well.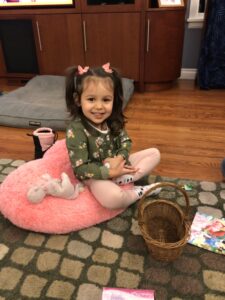 We understand life is challenging, through strong family bonds and communication, we get over the hurdles. We are not perfect parents, but we stick together as a family. We are now ready to expand our family and want to give Kiki a sibling that she can bond with and share her memories.  We promise to love this baby unconditionally as we have with our baby girl and let him/her know that he/she is loved everyday.  We are committed to giving your child the same life full of love, laughter, learning, and adventure.
Thank you for taking the time to read our brief profile and to consider us to parent your child.  We are looking forward to building a loving and positive relationship with you!