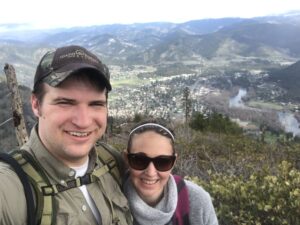 Thank you for taking the time to learn more about us.  We cannot imagine what you are going through but we are honored that you would consider us to be a part of your story.
We are Dan and Lauren. We met at Whitworth University in 2005.  It was friendship at first sight that eventually grew into love.  We became engaged in 2009 and were married on July 23, 2011.  We truly are best friends and our friendship has seen us through the best of times and the hardest of times.  Together we enjoy hiking, traveling, trying new restaurants, and binge-watching Netflix.
We live just outside of Spokane in a rural community.  Our home is on 5 acres and we live across the street from a wheat field.  It is super fun to see tractors and combines traveling down our road every day but we also love that we are a 30-minute drive from downtown Spokane and still get to experience everything a city has to offer.  While we do have two outdoor cats, Swoosh and Sumo, we live 600 yards from Dan's parents farm which has 5 horses, cows, and lots of barn cats.
Dan was born in Idaho Falls and moved to Spokane when he was 2.  He majored in Computer Science and Math.  Dan is a software architect currently creating banking software.  Dan enjoys taking the horses on backcountry trips, any opportunity to spend in nature and reading a good book.  Dan has a brother, Mark who lives in Montana.  Mark also built his family through adoption and we are thankful our kids can have that common thread as they grow up together.
Lauren was born and raised in Tucson, AZ and moved to Spokane to attend Whitworth.  Lauren completed her Bachelor's degree in Athletic Training and Kinesiology and went on to receive a Master's degree in Healthcare Administration.  Prior to stepping out of the workforce to be a stay at home mom, she managed medical coding group.  Lauren loves staying at home with our son Levi and getting to witness every milestone.  Lauren loves to run, be in nature, and cook.  Lauren has two half siblings that are 20 years older than her but she is still close to them.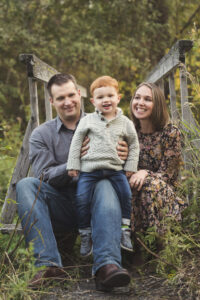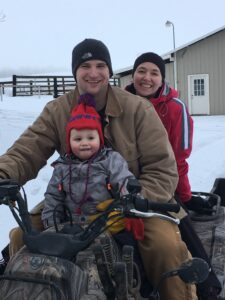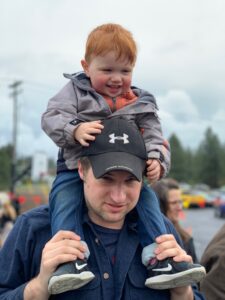 We learned we would not be able to have biological children in 2016 and quickly moved forward with adoption plans.  We always knew we wanted to adopt and infertility just made adoption our plan A for starting a family.  We adopted our son Levi in 2017.  He is super bright, passionate, caring, and goofy.  He loves to sing at the top of his lungs, dig in the dirt, and read books.  We have an open adoption with his birth mother.  Levi has 4 biological siblings and they helped us pick his name.  We are so thankful to Levi's birth family and could not imagine our lives without them.
More than anything we want you to know that this child will be loved beyond measure by us, our family and our community.  We will always honor their story and this child will know the love you have for them.  We are praying for you and thank you for considering us.